--------PitbullSaver
FooApprentice, member since December 19, 2009

2,954 StarPoints
162 friends

Buy FooDollars for --------PitbullSaver as a gift!

80 forum posts
My FooPets
13 Fotos
10 years and 9 months old male Rottweiler
View Profile
Shop for the items in this scene
Send --------PitbullSaver a breeding request
10 years and 9 months old male Marley Yellow Lab
View Profile
Shop for the items in this scene
Send --------PitbullSaver a breeding request
About me
NEED HOME 4 JAKE AND RODNEY WILL GIVE ONLY TO GOOD HOME…. BACKGROUND CHECK REQUIRED NAME UR PRICE…
ACOUNT DELETION WILL HAPPEN AFTER JAKE AND RODNEY FIND HOMES
SORRY 4 INCONVIENCE INTERENT IS SHUTING OFF
my name is blake i am 13 and really love animals!!! Currently i am volunteering at an animal shelter and i have done 160 hours there i love it!!! I encoured Microchiping Spay and Nuetering!!! i think everyone should volunteer its great. Its not all about cleaning CRAP i do alot of adoption recommendations and walking dogs and socialization. So DONT be discouraged from Volunteering!!! i work at non kill shelter!!!!
Currently i am helping online shelters and trying to move a dog to acount so if u wanna help buy from my sale!!! I dont have Fds so dont ask… and if i am not on please help feed my doggies.. and if u could give me fds that would be awesome i willl return the favor…
i need to pass around a point and its about pitt bulls!!! 30 out of 80 of our dogs are pitts most have cropped ears which is a truly painful thing 4 the dog people will lay on the dog while someone cutts the ears off while the dogs is screaming its head off. pitts are one of the most misunderstood breeds. they are so loyal and willing to please thats they are the gangs choice. sadly mostly every pitt thats is dropped of at animals shelter is ammeddiatly put on death row because of the bad rap!!! i have seen the other side of it though i have seen pitts put in homes with a 2 and 4 year old and them be made into therapy dogs!!! its amazing when these dogs get a second chance what they can do!!!
SEND ME A LETTER IF U THINK THE PITBULLS SHOULDNT HAVE CROPPED EARS ON FOOPETS
SO FAR 15 people have agreed
Hey my fav hobbies are playing soccer (goalie rocks)
and skiing LOL
Look at this Vicious Pitbull!!

ADORABLE (kid or pitt???)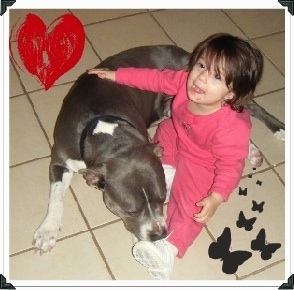 Ahhh.. see u people how great they are!!!

Such a Killer!!!


Look how happy he is!!! Both of them!!!!

Soo.. cute!!!!!

This was taken in the 1800's if they trusted them why cant we