girl.
Send myc_ a breeding request
girl. is a female Tabby Mix born October 30, 2015 and last adopted October 1, 2019.
She is 4 years and 8 months old.
Personality Profile for girl.
Intelligence
55

86

142
Obedience
28

78

127
Bravery
30

29

118
Agility
73

129

162
Endurance
57

103

142
. ..
LS Tabby Mix

.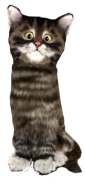 I don't really, girl is girl. She does her own thing and is her own thing. She is 3/5, 425/691, 61.5%, -1 in Bravery. She is unbred and I believe natural aged but I was unable to actually determine that for sure. I was lucky enough to bring this girl home like most of my LS cats for 45fds in a Rare link thread that was posted on October 1st, 2019. I'm forever grateful that I got to bring home most of my babies for that price and will always cherish that day and the memories and friends I made during that short period.

Owned by myc_