eleanor.
Send myc_ a breeding request
eleanor. is a female White Cat born November 1, 2018 and last adopted October 1, 2019.
She is 1 year and 8 months old.
. ..
LS White Cat

.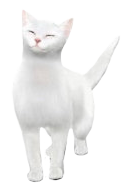 Miss Eleanor has always been a dream of mine. I'm not really sure why but every time I am on foo I always try to get a LS white cat but I never seem to achieve it. White cats in real life have always been gorgeous to me but I love my Ellie girl so I'll stick to my virtual white cats for now. ♡ She started my white cat addiction tbh. Eleanor is a female white cat with 3/5, 501/736, 68.07%. She is lost by 5 in Agility. She has been naturally aged and hit 1 year old while in my home. She will not be bred as of right now as I do not see the point in breeding lost stats. Eleanor is the reason I started obsessing over white cats and began wanting to get more high stats and lost stats. I was lucky enough to bring this sweet girl home for 45fds. She is not for sale.

Owned by myc_