eleanora
Send beauxbatons a breeding request
eleanora is a female Chocolate Lab Mix born January 23, 2019 and last adopted June 2, 2019.
She is 1 year and 2 months old.

⇠ previous | next ⇢

⁂ lost stat chocolate lab | gift from caity ⁂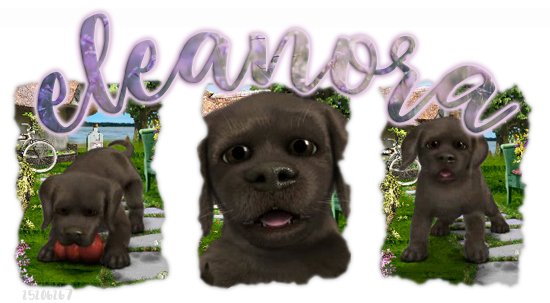 so i've wanted a lost chocolate lab ever since i was stupid enough to sell mine a few years ago (2014? 2015? somewhere around there). his name was mocha, and when i had the opportunity to get him back from someone, we just didn't communicate well enough and i was too late. i later tracked him down and found him on an abandoned account, and i doubt i'll ever get him back. that's okay— he's made someone else happy, even if it's not right now. maybe one day that will change, but for now i just have to miss him.
fast forward a few years, and caity found out i was still looking for one. while having one to represent mocha was a cute idea— i.e., male— i'd wanted a lost chocolate lab for so long now, that i honestly didn't care. if he was male, his name would be mocha, and if it was female, i was set on eleanora. the name was really special to me because (okay, a little bit of a tmi personal info warning haha) i've always wanted kids, but i know the women in my family have some fertility issues. anyways, this is the name i always wanted to give my firstborn daughter. hopefully i'll get that chance! so, a female lost stat chocolate lab was kind of just meant to have this name in my head, just because it has such a great importance to me.

obviously i didn't really think i'd ever get one of either gender with the money i'd gotten on my account. they're a rare find, first of all, and i'm not the wealthy breeder account i was in 2016. but i got my baby angel cake for ac price, all thanks to a super generous friend of mine.
caity found out that adelespets had found a girl, and surprised me with the gorgeous baby yesterday. i was shocked to learn she had found one and even more shocked to learn she'd spent so much money on me when i couldn't return the favor. i never thought i'd get one of these dogs with the account i have now, so this was a big surprise, and such a welcome one! i was so excited!!
the second i saw her, i didn't care that she wasn't male or that she wasn't mocha. she's a new chapter on a new account for me, and she's everything i never thought i'd have again. she's got such a cute scene and profile and honestly has the best pictures, and i,,, can't thank caity enough?? i got so lucky to have the chance to be her dog mom (: thank you thank you thank you caity my love! (:
Owned by beauxbatons