ollivander
ollivander is a male Westie born March 6, 2019 and last adopted August 27, 2019.
He is 11 months old.
my elf baby is

⁂ lost stat westie | rehoming win ⁂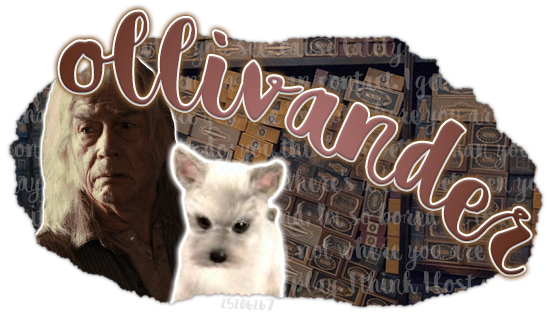 "the wand chooses the wizard, mr. potter."
garrick ollivander is the wandmaker for nearly every wizard in the british isles. hogwarts students go to his shop in diagon alley, as it's the obvious choice! the sole exception for his wand possessors would be the late albus dumbledore, who had one of the peverell brothers' wand. the most famous wands he every created were the pair that belonged to the dark lord and harry potter, both of which had the same phoenix's feather in their wand core.
garrick makes his wands of phoenix feather, dragon heartstring, or unicorn hair cores, using a variety of woods and lengths on the outside finish. wands also have different kinds of "bendiness", something he explains speaks to its allegiance— the stiffer, the more loyal— and its ability to master— the bendier, the more compliant.
choosing the name ollivander
ollivander is a very important pet to me, as he represents my love of the harry potter series kind of as a whole. i wrote a lot of fanfiction about the series, and the character i created in my stories included the daughter of garrick ollivander, named katharine. while his daughter's name is never mentioned, it is canon-compliant that he actually had a daughter who died prior to or during the second wizarding world, so i played with the idea that she was in the same year as the golden trio— how would it have played out to have her diverge from her father's hogwarts house? would she get along with the three gryffindors? she ends up going on a whole whirlwind of a journey, and it's all from me finding out that little info on garrick ollivander. the opening there gave me a chance to make a story. did it start as just a dream, insert kind of fic? i admit, it did. but slowly i started to flesh out this character. i had a lot of fun doing so, and eventually she became entirely her own person, someone very unlike myself and very much unique. to make a long story short, ollivander represents the name of the family that helped me develop my own story.

i won ollivander in mazey's avengers themed rehoming, back when he was named clint. it started mid-july when i made an app for this lovely boy. when i started, i only had a bonding badge of 54 days! i worked hard on my application, and finally posted it. my best friend victoyria was also there too, and it was fun to be there with her. the time came, about a week or two later, to announce the first round of tops. i was so excited to be included, and i wanted to get on my task as quickly as i could, but there was a problem- i was kind of in sweden, away from my laptop. luckily, i'd be getting back just in time to make my application and post it, but it would have to be quick. i set aside 6-7 hours of my day when i got back and got to work. i managed to make a full profile, scene, and written task in just six hours. not quite sure how it worked, but fam we did it, and i got it in right under the wire. the second round of tops was announced, and even though i'd been practically the last person to submit my task, i was still in the second round! it was ~ the final countdown ~, and i knew i had to do my absolute best if i wanted to bring him home. on august 27th, 2019, i found out that i'd be bringing home a lost stat westie— nearly 3 and a half years after my first attempt.
won in mazey's avengers themed rehoming.
mazey's message
Arine, I'm so happy to tell you that your search for a lost westie is over! The amount of hard work and dedication you put into all of your apps, his scene and profile just blew me away! I know this guy is going to have an amazing home with you, and I know you're going to take amazing care of him! I'm happy to be a part of helping a dream of yours come true! ~Mazey


his only godparents are victoria and mazey.
Owned by beauxbatons