ellie.
Send myc_ a breeding request
ellie. is a female Calico born June 9, 2019 and last adopted September 23, 2019.
She is 1 year and 1 month old.
Personality Profile for ellie.
Intelligence
60

96

147
Obedience
62

94

145
Bravery
57

56

145
Agility
58

87

145
Endurance
62

110

139
. ..
LS Calico

.
❝Cats choose us; we don't own them.❞
Miss Ellie, keeping me up late at night since May 11, 2019. ♡ Believe it or not, I'm really not a cat person. I love them to death but every time I have owned a cat in previous situations(family pets not mine personally) it has just never went well for me. May 11th was a typically night for me. It was 9:30pm and I was about to go to bed. I was walking my dogs one last time and all of a sudden I hear this kitten screaming. I took my dogs back upstairs and there she was this little kitten(3.2lbs to be exact) was under my stairwell at my apartment complex. One of the older women in my complex feeds and catches strays so I went to her first to see if this happened to be one of her strays she had been trying to get and she hadn't seen the cat before. I went around my entire complex making sure no one had lost a kitten. No one had seen this kitten before and sadly one of my neighbors found two other kittens around her size and age that seemed to also have been dumped at our building. A few days later and she has stolen my heart completely. She makes sure she lets me know exactly where she is and that she is coming every time I walk into the door. I never thought I'd have this strong of a bond with a cat but here we are.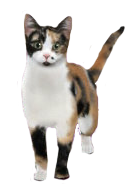 ♡ My first lost stat. Miss Foo Ellie holds the spot of my very first lost stat since my return to foopets. Ellie is a 1/5, 443/721, 61.4% female Calico who is -1 in Bravery stat. If she ever comes up for sale she will be returned to Raven.

---

Won in a rehoming ran by RavenLenore
If for any reason this baby no longer fits in my home she will be going back to Raven.
Owned by myc_