gabrial.
gabrial. is a male Westie born July 21, 2019 and last adopted September 15, 2019.
He is 11 months old.
. ..
First Foo Pet

.
❝You can tell by the kindness of a dog how a human should be.❞
My sweet old man. ♡ Gabrial came home in the summer of 2011, I unfortunately do not remember the exact date. He was born April 16, 2011(this dude will be aged up on that day) and I brought him home with all the money I could manage to save from working that summer. I at the time was only 14 years old and had been dying to have my own dog. My fathers side of the family raised Great Danes and I loved them so much and I thoroughly enjoyed traveling with my dad to small shows to show in them. But I wanted a dog of my own.
Then came Gabrial, I had no intentions of bringing home a Cairn Terrier. Actually, I had never even heard of the breed until the day I went to look at the litter of Papillons I was intending on buying one from. None of the paps really fit my idea of the perfect show dog. None looked quite up to my standards. I was crushed. But I looked around as the woman who's dogs I was looking at only 6 dogs I believe but she had 2 Cairn Terriers that she decided to have a litter out of. There were two of them, a little black female and a little scruffy brown with black markings male. I originally wanted to the girl and then was informed she was already sold. So I decided to get the little boy out and so the story of how I met my soul mate begins.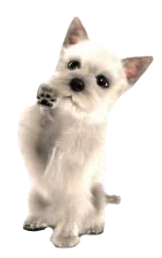 On foo, my Gabrial is a simple little common boy who happened to be my first pet when I opened this account. ♡ Although, he is considered common nothing could replace him at this point as he was my first pet here just like Gabe was my first pet in real life. Gabe is a 3/5 stat male westie with 471/683 total stats and give him a stat percentage of 68.9%. He will not be breeding but will also not be fixed anytime soon. Gabe will be aged on April 16th. He original birthday is/was July 21, 2019.
Owned by myc_