Twilight Legacy
Twilight Legacy is a neutered male Black Mix born October 13, 2008 and last adopted July 23, 2017.
He is 11 years and 7 months old.
Welcome to your new home Twilight. We're a happy family here. I know all your Foo brothers and sisters will love you. Have fun, but don't forget all kitties share their mice here :-))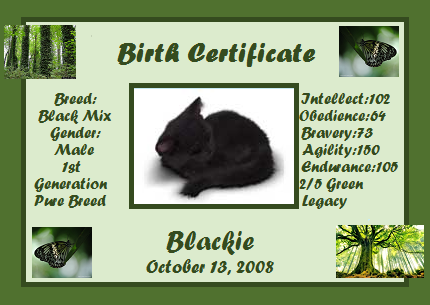 He is gorgeous and just wants to be cared for and feel appreciated and wanted.Information about Pokeys:Most Legacy dogs have ID numbers below 4,811,100 and have birthdays between December 14, 2007 and October 22, 2008. There are some that have ID numbers above 4,811,100, but in order for them to be a Legacy, their birthday has to come before July 30, 2008 or they have to have Pokey pictures.The reason for the birthday? The breeding feature was first introduced July 31, 2009. Many members accelerated their pet's ages for breeding, putting a lot of non-Legacy pet's birthdays into what are called, "Legacy territory." However, they are not Legacies because they have never been a Pokey. He is agile and wants to be loved.


Owned by Chris