-Twin'Chloe-
-Twin'Chloe- is a spayed female Pokey German Shepherd born January 7, 2010 and last adopted February 17, 2017.
She is 10 years and 6 months old.
Her mother is Anabella, owned by ImmaJenneh
, and her father is B - Matteo, owned by Coyote-
, and her 6 siblings can be viewed on her family page
Chloe represents Chloe Price from the game Life is Strange. Chloe is Max's best friend, and they were reunited early on in the game after being 5 years apart. While Max was gone she became best friends with Rachel, but Rachel mysteriously disappears and Chloe desperately searches for her, putting posters up all around her home town.
Chloe is a stubborn, mischievous and rebellious punk-rocker. She loves to take risks, and snarky comments are common. Due to past experiences, including the loss of her biological father, Chloe has become quite pessimistic. She has abandonment issues and often feels very alone and that she has no one she can trust and confide in, because Max left for 5 years without contacting her.
Despite everything, she forgives Max and they become best friends and partners in crime, trying to fix their messed up reality with max's rewind and time travel powers. Max saves her life numerous times and for that she was grateful, but in the end she came to realise everything bad was happening because Max saved her, and she gave Max the duty of making a very hard choice; Chloe or Arcadia Bay (their home town)
Though it was not openly expressed that Max and Chloe were in love, your choices as a player can result in some romance between them, and a goodbye kiss at the end.
It is clear that Chloe was in love with Rachel before she disappeared, and was very hurt when she discovered Rachel had been in a relationship with Frank.
Chloe, despite her flaws, is a very relatable and adventurous character.
I had my eye on Chloe and Maxine for quite a while, but eventually lost track of them. Tee had a sale thread and I saw she was taking offers on Chloe but not Maxine, as Maxine was owned by Mabel. I asked Mabel if she'd be willing to sell, and she allowed me to bring Maxine home, and Tee allowed me to bring home Chloe. I paid 6k each.
A few pictures of her

Chloe chatting away


Chloe and Max walking along the train tracks together


Max coming back from an alternate timeline, happy that Chloe is still alive


Chloe dared Max to kiss her


Chloe and max's handshake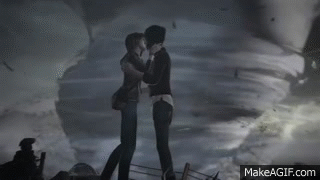 !

One last kiss

NEVER, EVER FOR SALE OR TRADE

Owned by Gottheart